It's definitely time to switch Holiday gears. I'm moving on to Valentine's Day. Who's with me?? I'm skipping the whole New Years thing....I don't know why but I've never had an easy time making any kind of New Years craft.
So, Love Birds.
What you'll need:
Red Felt (trimmed to bird shapes)
Burlap Circles
Paper
Stamps
Fusible Webbing
Hand Towel
~Trim the felt into bird shapes.
~Stamp onto the paper with some different designs (I used a heart design and music notes).
~Tear around (and out) each design.
~Use the fusible webbing and to attach the circle of burlap to the felt (trim the webbing to be the exact size of the circle) and place it under the towel and iron it.
~Do the same with the piece of paper.
~Thread something though it and decorate a branch with it, should you like!!
I shared this post at the following linky parties....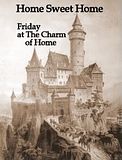 &
lt
;a
href
="http://www.
katiesnestingspot
.
blogspot
.com" target="_blank">&
lt
;
img
width="150" border="0" alt="Katie's Nesting Spot"
src
="http://i679.
photobucket
.com/albums/vv157/
KTnestingspot
/Blog%20Buttons/
KatiesNestingSpotButtoncopy
.
jpg
" />&
lt
;/a>