large clay saucer
fresh moss
gravel
coffee filter
drill
rich soil
Paint (optional)
Mod Podge
Take your saucer and paint it the color you would like. Once paint is dry, give it a coat of mod podge
Drill a couple of holes into the bottom of the saucer for drainage.
Line the bottom of the saucer with a coffee filter (to keep the dirt from draining out).
Put a layer of gravel on the bottom of the saucer for drainage.
Add a layer of wet dirt.
Place moss (that has been carefully removed from the earth) on top of the gravel and lightly water it. Misting is the best option. In fact, to keep the moss healthy, you should mist it everyday.
Add fall or Halloween decorations!!
The moss really provides a great setting for an autumn centerpiece. It is so verdant and plush, and kind of eerie at the same time. Let me know if you make one...I'd love to see what everyone else came up with!!
I joined these linky parties (Check them OUT!!):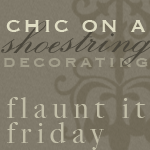 Add caption